Roland Barthes, one of France's great 20th century thinkers, died thirty years ago today. Although not known as a diarist, he did occasionally write journals, and, since his death, some of these have been published, albeit amid controversy. Mostly, the diaries seem to concern his erotic needs or the extraordinary relationship with his mother.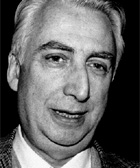 Roland Barthes was born in 1915 in Cherbourg, northern France, but he and his mother moved to Bayonne, in the south, after his father, a naval officer, died in battle. In 1924, they moved again to Paris. Barthes studied classical literature, grammar and philology at the Sorbonne, but suffered intermittently from TB first contracted in 1934.
During the 1940s, Barthes worked at a teacher in many different places in France and abroad (Bucharest and Alexandria). In 1952 he settled at the Centre National de la Recherche Scientifique, where he studied lexicology and sociology. In subsequent years, he began writing a series of essays on the myths of popular culture for the magazine
Les Lettres Nouvelles
.
In 1960 Barthes joined École Pratique des Hautes Études, and by the late 1960s he had established a reputation as one of the leading critics of Modernist literature. He traveled to Japan and the US, teaching for a while at John Hopkins University. It was in this period that he produced his best known work: the 1967 essay
The Death of the Author
, and, in
1970, the dense critical reading of Balzac's
Sarrasine
entitled
S/Z
. Throughout the 70s, Wikipedia says, Barthes continued to develop his literary criticism, 'pursuing new ideals of textuality and novelistic neutrality through his works'. In 1977 he was elected to the chair of Sémiologie Littéraire at the Collège de France.
Also in 1977, his mother, with whom he had lived all his life, died. Barthes himself died three years later, on 25 March 1980 (30 years ago today), as a result of being hit by a van while walking in Paris. Apart from
Wikipedia
,
Kirjasto
has a fairly detailed biography, and there are biographical details in some book reviews, such as that in
The Independent
. In the latter, Ben Rogers sums up Barthes: '[He] was a contradictory figure. He combined a Protestant passion for order and routine with nights in Tunisian brothels and Parisian gay bars. He was a radical critic of the fashion system who liked classic English clothes, a Marxist who recoiled from '68, a champion of hedonism who never publicly proclaimed his homosexuality.'
Barthes is not thought of, or discussed as, a diarist. However, several works have been published posthumously which contain diary or diary-like material, although only one of these (as far as I can tell) has been published in English. In 1987, François Wahl (Barthes' friend and literary executor) published
Incidents
, a collection of four hitherto unpublished works by Barthes. These included
Soirées de Paris
, an erotic diary he wrote during 1979, and
Incidents
, a diary written in 1969 while Barthes was on holiday in Morocco (again about erotic encounters). It was translated (by Richard Howard) and published by University of California Press in 1992 - a page or two can be read at
Amazon.co.uk
.
Much more recently, Michel Salzedo, Barthes' half-brother and the legal guardian of Barthes' oeuvre, authorised the release of two more works, and these were published last year (2009) in France as
Journal de deuil
(
Journal of Mourning
) and
Carnets du voyage en Chine
(
Travel Notebooks in China
). The former is a diary written after the death of his mother, and the latter is a diary written during a trip to China in 1974.
According to
The Daily Telegraph
, François Wahl 'came out of retirement . . . to angrily challenge their release'. He told the French newspaper
Le Monde
: 'The publication of
Journal de deuil
would have positively revolted [Barthes], in that it violates his intimacy, . . [and] as for the Chinese notebooks, it's the same type of "unwritten" text, which in his eyes was a real taboo.' However, the publisher of the new texts said it was hypocritical of Wahl of criticise them since he had personally overseen the release of
Soirées de Paris
, containing far more intimate revelations.
In
The Guardian
, Andrew Hussey found himself bemused by the Parisian literary scandal: 'While the first book delivers (mainly unwittingly) high comedy, the second, an account of maternal bereavement, is a quite touching account of how real life (and death) transformed Barthes's interior life. Together, these books reveal that he was fond of blow jobs and close to his mother. Neither fact is remarkable. But given that Barthes is still most famous in the English-speaking world as the thinker who gave us the notion of 'the death of the author', there is an irresistible irony in the fact that these posthumous publications of his writings should have provoked such a squabble on the Parisian literary scene.'
According to Benjamin Ivry, writing in
The Chronicle of Higher Education
(and reproduced on the blog,
evening redness in the west
), 'neither text radically alters our understanding of Barthes'. The
Journal de deuil
, he says, does add documentation about the writer's deep attachment to his mother, from whose death, he told friends, he was never able to recover; and '
Carnets du voyage en Chine
, made also of impromptu jottings rather than the carefully worked out prose that readers of Barthes are accustomed to, is another unusually intimate glimpse into the writer's daily life, even when bored and out of sorts.'
Thanks to the
evening redness in the west
for the following few extracts:
5 November 1977
'Sad afternoon. Quick shopping. At the pastry shop (pointlessness) I buy an almond cake. Serving a customer, the little female employee says, "Voilà." That's the word which I would say when I brought Mom something when I looked after her. Once, near the end, she half-unconsciously echoed, "Voilà" (I'm here, an expression which we used mutually during a whole lifetime). This employee's remark brought tears to my eyes. I wept for a long time (after returning to the silent apartment).'
19 November 1977
'(Overturning of status) For months, I have been her mother. It's as if I had lost my daughter (any greater suffering than that? I had never conceived it).'
20 March 1978
'They say (so Mrs. Panzera informs me) that Time lessens bereavement. No, Time makes nothing happen; it only washes down the emotivity of bereavement.'
29 July 1978
'(Saw the Hitchcock film
Under Capricorn
) Ingrid Bergman (it was made around 1946). I don't know why, and don't know how to express it, but this actress, the body of this actress, moved me, has just touched something in me which reminds me of Mam. Her carnation, her lovely, utterly natural hands, an impression of freshness, a non-Narcissistic femininity.'